How we Started Live Streaming County Championship Cricket

Written by Darren Wilders, our Technical Director.
Live streaming is now a massive part of County Championship Cricket and is now especially important in 2020 with COVID-19 restrictions meaning supporters can't visit the ground.
All clubs now live stream their games, but it started at Nottinghamshire County Cricket Club back in the 2014 season – and this is when deeserve got involved.
It was winter 2013, and I was stood in the middle of the Commercial Department at Trent Bridge discussing how we could enhance a supporter's experience when they couldn't get to the ground. Nottinghamshire was busy developing their new match centre (Trent Bridge Live) at the time, to provide live scorecards during a game, and the suggestion from the New Media Manager was – "What about streaming the game from a webcam?"
As IT support professionals and someone who loves a decent IT challenge, I left their offices with a "Leave it with me". As soon as the suggestion was made I knew it would be something that would be massively popular, providing we did it right. We knew it would be a challenge. What about cameras? What about the live streaming platform? How would we make it easy to view on desktop PCs, as well as mobile devices like phones and tablets? The value to the viewer would be in "it just works" – something we build into every IT support solution we design, install and configure.
We've worked with Nottinghamshire County Cricket Club for many years and they are always looking for new and innovative ways to improve things for their members and supporters. A suggestion as revolutionary as live streaming their games had to be possible, didn't it? No one else was doing it at the time, so this would be a massive benefit to everyone interested in County Cricket if we could pull it off, and we had to pull it off.
We knew we had a number of challenges to overcome.
The first challenge: What camera do we use?
We needed a single fixed camera, preferably permanently installed and suitable for outdoor use – it does, after all, seem to rain a lot during the cricket season! That, and we wanted a solution we could leave installed all of the time, and access whenever we needed to.
We had a couple of core requirements. The camera needed to have professional zoom capability. Cricket pitches are big, trust me, I've walked round Trent Bridge a lot. Any video system needed to be 'moveable' due to using different pitches for each match. As we manage all of the IT networks at Trent Bridge, a network camera, that could be powered over the network via PoE (Power over Ethernet) was our preferred solution. We knew we could get network connectivity to it, regardless of where it was ultimately installed, and we knew we'd be able to access it from anywhere else at the ground over the network. We finally settled on a fixed, high definition, 20x zoom network camera, usually found in HD CCTV systems. After working with our cabling partner to install some new external grade network cable between the camera and the nearest network cabinet, we installed a new HPE Aruba network switch, mounted the camera and got it all connected. A bit of network configuration later (we actually created a dedicated live-streaming network around the ground) and we could see the pitch.
The second challenge: What streaming platform or service do we use?
This was very interesting to us as an IT company, as this is where we could really showcase our services and expertise.
We manage many systems based in data centres around the UK. Our primary sites are based in London and Manchester. On behalf of our clients, we manage everything – from the rack space, including power, and network delivery to the servers and equipment hosted in them. Within some of these racks we own and manage our own Cloud infrastructure, which is often used by clients who need maximum control over their services but don't want to own and buy their own servers and network equipment. With spare computing capacity available to us, it made sense for us to dedicate some of that to the live streaming.
What software would we use? It's OK having the computing power available, but what software will we actually use to produce a live stream? We ideally needed HLS (HTTP Live Streaming) support that would work across many different devices. HLS is a protocol developed by Apple for live video streaming on the iPhone and iPad, but was fast becoming widely supported on many different platforms. It offered many benefits. It was distributed via HTTP or HTTPS (the standard used by every web site you visit) and we knew we could scale this up regardless of how many viewers we attracted. Secondly, it offered an adaptive bit-rate. IE if you had a slow internet connection you could still watch the stream, albeit with a lower quality image. We knew we wanted to stream in at least HD (High-Definition), but we didn't want to cause problems for people on slower connections such as mobile networks at the time… we know that there's nothing worse than a buffering live stream, or, a stream that doesn't work at all!
We researched this in-depth against our specific requirements and the industry leader was a product called Wowza. We fired up some Cloud servers, we bought some test cameras for our office, we completed lots of testing, and then decided it was exactly what we needed.
The third challenge: Getting the camera images up to the streaming platform.
We knew we'd need a PC at Trent Bridge, that was able to access the new live-streaming network camera and send the images up to the live streaming solution. Video uses lots of computer resources, so we purchased a high-specification PC for the job, with an Intel i7 CPU, 16GB RAM, and a dedicated graphics card to process the images. As we were only dealing with video, we used a basic piece of software called Adobe Media Encoder to grab the image from the camera and stream it up to our streaming platform. Imagine how excited we were when we could see the stream coming in, and we could actually view live pictures from Trent Bridge!
So, we had a complete solution, right? Not quite – we now needed a way of getting this video stream out to our viewers.
The fourth challenge: The viewer experience.
Our aim was clear. We needed a stream that anyone could watch from anywhere in the world.
There are lots of video players out there and we ended up trialling most of them. We wanted a player that "just worked" across the widest range of browsers, operating systems and devices. It had to support HLS (because this is what we'll be distributing the live video files using) and it must support an adaptive video stream that would allow the user to select the quality they wish to view in. We also needed to be able to configure it to look how we wanted it to look to fit in with Trent Bridge's branding.
We knew this was an important part of the solution, so we tested many browsers, many operating systems and many devices, including buying different Android-based devices, until we found the one that worked the best for our requirements.
We also tested lots of different video settings. This included different bit-rates and frame-rates to find the best combination, offering the best picture quality for the least bandwidth requirement. We certainly didn't want any blur when the ball was bowled! We finally settled on 240p, 360p, and 720p and we were able to get the HD (720p) stream down to around 2.5Mbit/s with the 360p (SD) stream using just 1Mbit/s – and we felt these numbers were easily achievable by most viewers at home.
Finally, we worked on embedding the Trent Bridge logo and a custom-designed "Live Streaming by deeserve" logo on the stream for branding purposes.
The fifth challenge: Scaling up, regardless of how many viewers we attract.
Remember our challenge regarding people not having high bandwidth available, but still being able to watch the stream? The same is true for us. What if we attract that many viewers WE run out of computing resource and bandwidth? That'd be really frustrating for the viewer. Everyone would get the dreaded buffering logo… and that's not good. It'd also be very embarrassing for us and for Trent Bridge.
There were two parts we needed to host. The video player and the actual live stream.
A separate Cloud webserver was fired up and configured, dedicated solely to serving a single web page containing the player itself. This was going to be embedded on to Trent Bridge Live. Every time you visited the Live Stream page you'd actually be fetching the player from this Cloud server.
We'd specifically chosen to stream using HLS. HLS basically breaks the live stream up in to separate files. These files vary in size depending on what quality of stream you're viewing – 240p, 360p, or 720p in our case. We have a lot of expertise in hosting and managing very large web sites. We applied that same knowledge to serving the video files, safe in the knowledge that we could cope with whatever demand we faced.
The sixth and final challenge: Going live.
The morning of the game we can still remember testing everything and preparing to make the player live for everyone to see. Months of work had led us to this point. Would it attract viewers? Would it be well received? Would it work? We all sat in the deeserve office glued to our computer monitors making sure that everything was working as it should.
The response we got when we first went live was amazing. It attracted a lot of positive comments from all over the world as people tuned in to watch Nottinghamshire play in the County Championship for free, simply by visiting Trent Bridge Live and clicking a play button.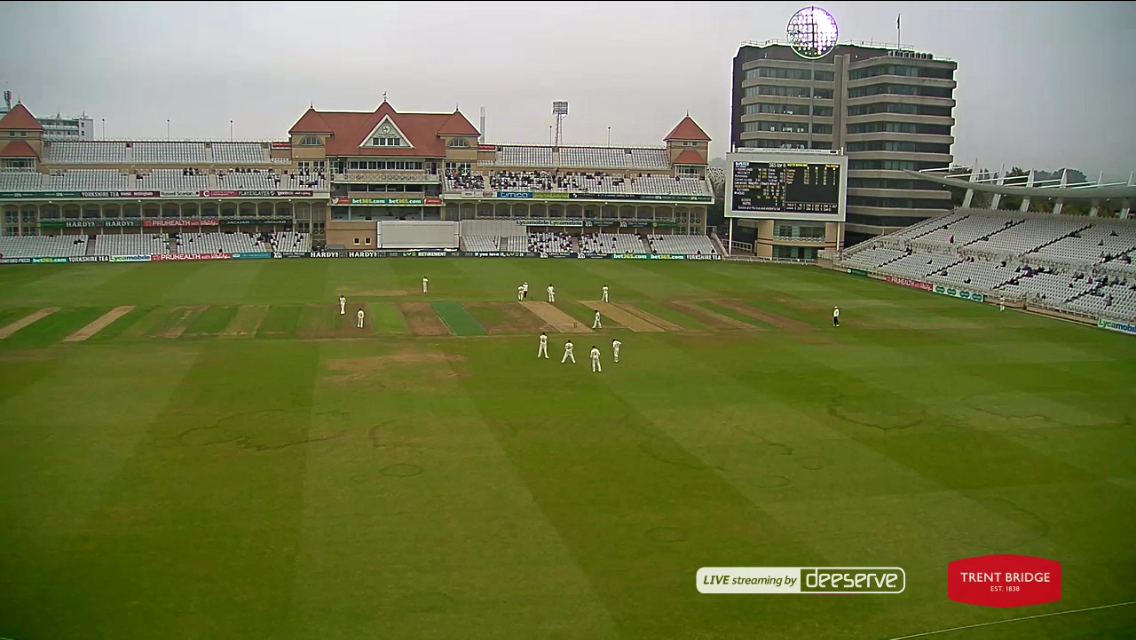 What we did next.

We were now providing a live stream, but we were always thinking of ways of how we could improve the experience. We had lots of ideas, many of which we implemented over the coming years. Keep an eye on our blog and social media channels for a post coming very soon about the developments we made for the 2016 season.

Tackling a challenge like this is what we do at deeserve and, even though our original live streaming event was over six years ago, we take a lot of pride in meeting our clients requirements head-on and staying at the cutting edge of IT services and support technology.

For the second part of this article on how we worked with the BBC to improve the service, adding audio and graphics, please check out this post.

<! -- MORE SERVICES TO HELP -->
More services to help
We offer a comprehensive range of IT services to suit all businesses - from "helpdesk"-style IT support to data centre hosting services.