I've Upgraded to iOS 14 and iPadOS 14 but I Can't Connect to Corporate WiFi Networks. Why?
Apple iPhone and iPad users are having problems with their devices connecting to their office WiFi networks after the recent updates.
For the last fifteen years the latter half of the year has brought us many things. Shops counting down to Christmas, Pumpkin Spiced Lattes, Black Friday sales, and a new version of iOS hits our devices. Normally this only causes headaches for developers – even though Beta versions of this have been out for a few months. The latest version (iOS 14 and iPadOS 14) has introduced a new privacy/security feature which, on the face of it is a good idea. This could, however, cause headaches for corporate networks that use MAC address filtering to control Wireless access.
So, what is a MAC address?
Every Wireless device has a Media Access Control (MAC) address. This is a unique number comprised of six groups of two (seemingly) random letters and numbers. These are controlled and distributed to each manufacturer. The first half of this number is the manufacturers identifier. When controlling access to corporate network, it's quite popular to use 'MAC Filtering'. In practical terms, this means that every device has to be registered to join the Wi-Fi. In an age of Bring Your Own Device (BYOD) this is quite practical in terms of logging and documentation. If someone gets a new device then it would need to be re-registered, as their MAC address would have changed.
So far, so good. That changed on Thursday 17th September, when iOS 14 and iPadOS 14 was released.
When previously registering a new iOS device one would go into Settings > General > About and then scroll down until you came to this:

You would then give your IT team that number and, shortly thereafter, your device would be able to connect to the wireless and all is well.
But not now. Our IT support team is hearing about a lot of problems…
If you upgraded over the weekend, you may have walked in and found your device is unable to connect to your office network. Surely nothing has changed. Or has it? You haven't changed your device. The wireless at the office hasn't changed. Something, however, has.
The answer can be found in your Wi-Fi settings on your iPhone or iPad. In the below graphic we can see I am connected to Wireless, but it's using a 'private address' which offers a randomised MAC to that network: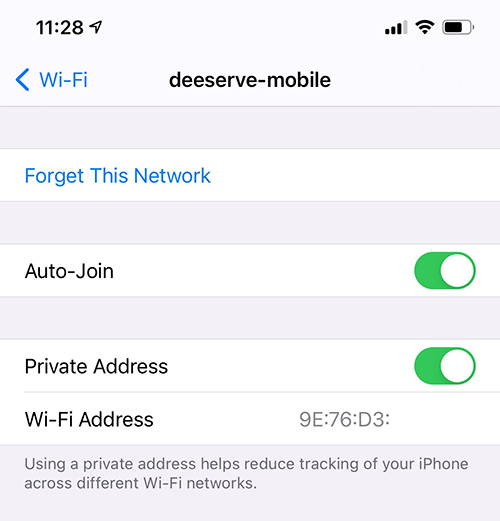 If this network used MAC filtering then I would be unable to connect. You can disable this simply, however. All users need to do is toggle the button to 'off' and this should then restore your wireless connectivity.

Apple have implemented this as a security measure to protect your privacy. Now, when you go roaming to a multitude of coffee shops, your phone will have a unique identity and this will make you harder to track. An excellent security feature, but it is going to make a few people scratch their heads when they're next in the office and does require a little help (as above) in order to have your network remember who you are.

<! -- MORE SERVICES TO HELP -->
More services to help
We offer a comprehensive range of IT services to suit all businesses - from "helpdesk"-style IT support to data centre hosting services.