We Used an AirTag to Track Our Private Cloud Delivery…
After a long battle sourcing everything we needed during the hardware shortages of the past couple of years, we finally had everything we needed to build our new Private Cloud installation at our latest data centre in Miami.
But this post isn't about the design, build, or the installation: we've got something else in the works for that.
In this post, we're sharing a little experiment we did with an Apple AirTag – a tiny, Bluetooth-enabled tracking beacon. We decided to put one into one of our Private Cloud hardware delivery packages, as it left our HQ in Normanton on Soar, near Loughborough, England, for its new home in Miami.
This is everything that happened on that journey. It's quite a ride – so strap yourself in…
Tracking a delivery with an AirTag
For our Private Cloud installation at Equinix Miami, the servers were built and configured in our office, ready for deployment. We packaged it all up and popped an AirTag in one of the boxes, before arranging a courier to take it to the USA.
We'd be reunited with our AirTag (and the servers, of course) once our installation team landed in Miami – but before any of that could happen, our hardware had to go on a ride into the unknown.
Before we show you how that ride panned out, let's answer a most pertinent question; what is an AirTag?
What is an AirTag, and how do AirTags work?
Apple's AirTag is a tiny little button-shaped device that can be used to track your items.
It can be used as a keyring, to help you track down that set of keys you're always misplacing – or as a charm on a cat collar, to find out where your pet really goes when they're out and about.
You can use one to track your backpack or suitcase while you're travelling, your wallet or purse, or anything else you really wouldn't want to lose: like a fully built and configured server, about to be shipped to the USA!
AirTags work with Bluetooth. They transmit a secure Bluetooth signal that can be detected by nearby Apple devices that are set up in the Find My network.
When these devices get a signal from the AirTag, they send its location information to iCloud over the internet, which then passes it onto the Find My app. The app displays the location of the AirTag on a map, and updates as it moves between device ranges.
AirTag locations are processed anonymously, and are encrypted to protect privacy. There are safeguards in place to avoid stalking and unauthorised tracking built into iOS – but Android users will need to actively safeguard themselves, with Apple's Tracker Detect app.
For our little experiment, AirTags were perfect – and at just £29 a go (or less if you buy in bulk), we just couldn't resist taking a punt. First though, we had to test that it worked…
Testing, testing…
And… Success! You can see step one in action: The servers at our office in Normanton on Soar.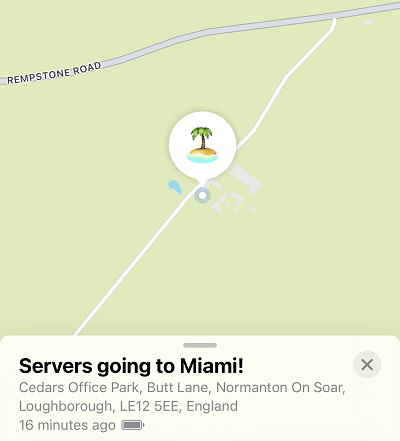 So with that, we filled out all the paperwork, and the boxes were collected by our courier. They're based in Leicester, so their depot was our servers' first stop…
Leicester to East Midlands Airport
And here it is – the first leg of the trip. That little palm tree emoji is going on quite the adventure from here on.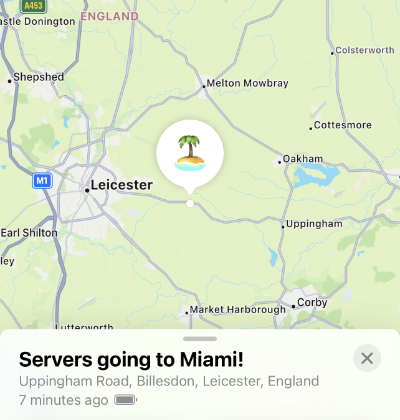 After our courier processed the shipment at their depot, they took it to East Midlands Airport, where DHL would take over for the flight to USA.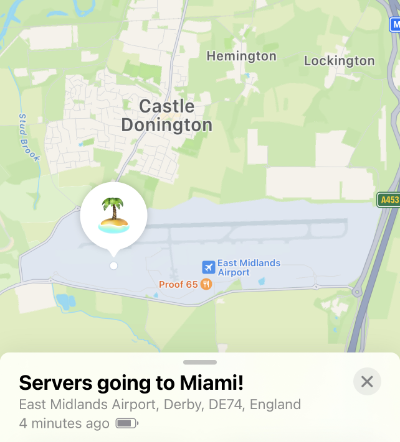 At this point, all of the paperwork was checked, and some more paperwork had to be done, before our servers could be loaded onto the plane.
We were checking constantly at this point (it was pretty fun), so as soon as we could see the AirTag had moved to the outside of the building, we figured they were on the move!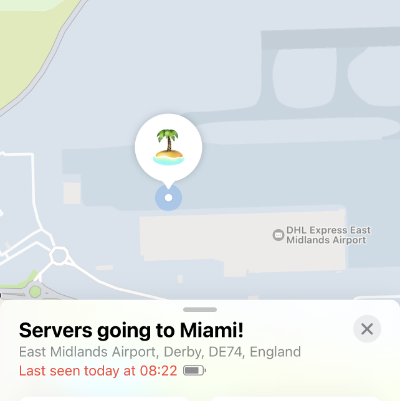 We checked all of the cargo flights from East Midlands Airport to the USA that were scheduled to leave within the next few hours, and noticed one in particular that seemed to stand out. It was operated by a company that works closely with DHL, and was departing for Cincinnati. That had to be it – so we used FlightRadar24 to track that flight.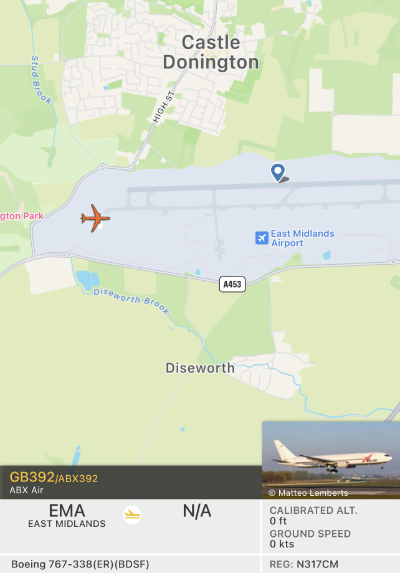 Here it is, waiting on the runway!
The AirTag's in the air
Our AirTag wouldn't work during this phase of the journey; AirTags rely on pinging signals to and from a nearby Apple device, connected to the internet. Even with WiFi on planes now, it's not a given.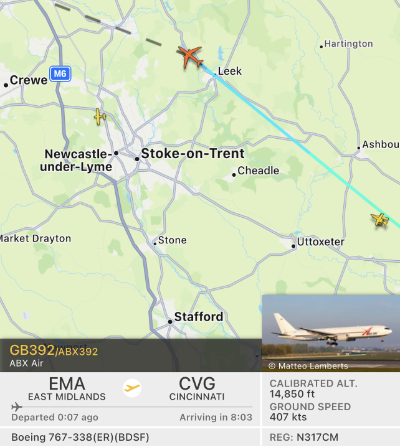 So, FlightRadar24 would be our eyes for the next seven and a half hours of flight time, as we eagerly awaited an update from the AirTag…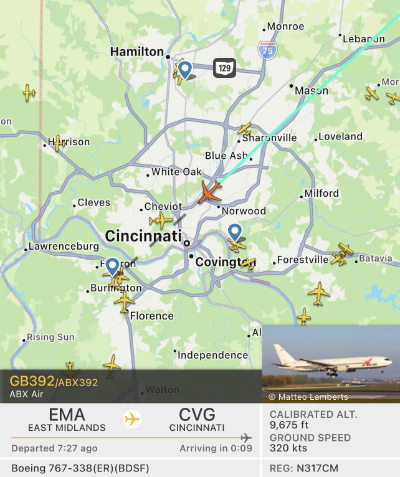 Suddenly, when the plane was being unloaded in Cincinnati, the AirTag sprang back into life!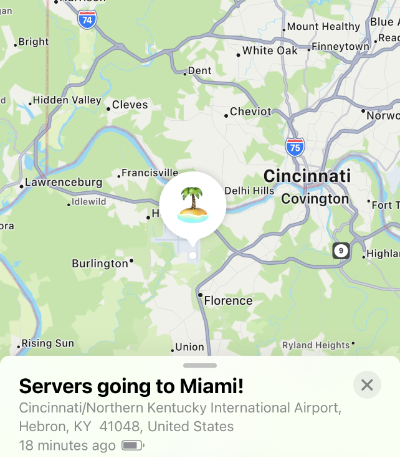 Cincinnati Airport: customs clearance and a long wait…
A little while after landing, the boxes were transported to the DHL building at the airport.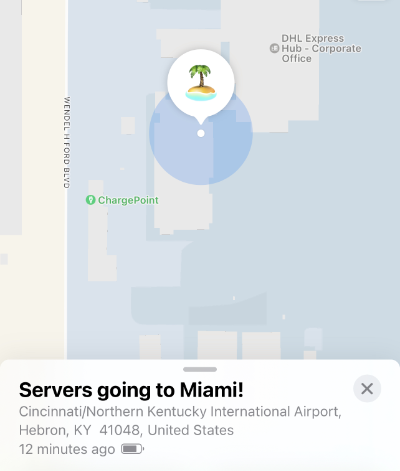 This is where they stayed for quite some time, until customs was cleared. It was quite a wait – and nowhere near as fun to track as the first part of the journey! So, we left it alone for a couple of days.
Then, one day – the AirTag moved to what looked to be outside of the building.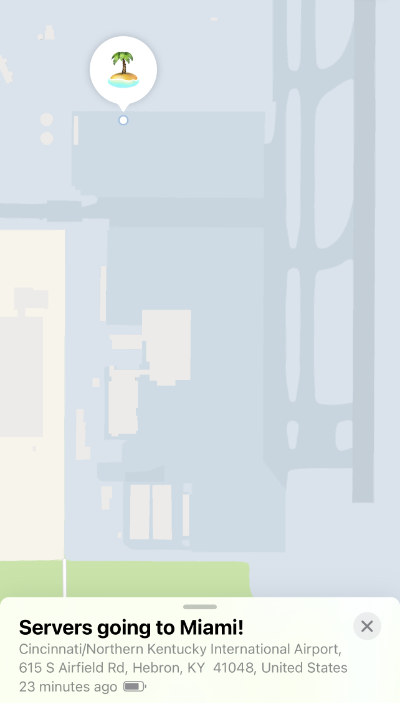 Surely this was it: time for flight number two?! We checked all freight flights to Miami from Cincinnati, and found a possible candidate. We switched back to FlightRadar24 – because once again, with no nearby internet-connected Apple devices, our AirTag would be out of contact.
¡Bienvenidos a Miami!
This would be the last time our servers would be in the air, and we tracked the flight eagerly all the way to landing.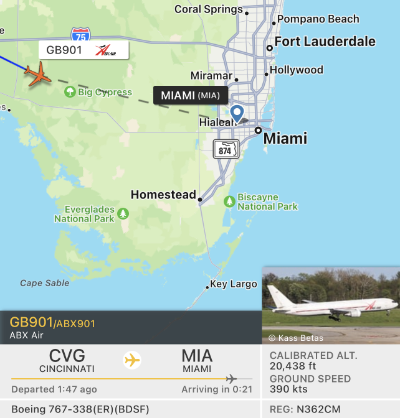 And as soon as the plane landed – POP – the AirTag was visible!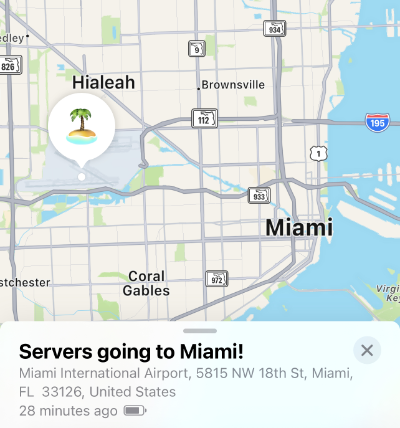 Our boxes now needed to be processed at Miami International Airport – but as an internal flight, and with customs already cleared, this was a much quicker process. They went on to a local DHL depot, where they were prepared for their final delivery.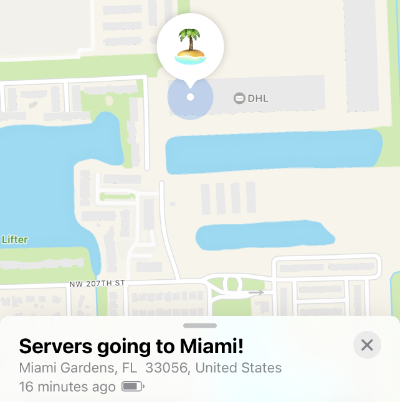 All of our hardware arrived at it's destination the very next day, waiting for our Technical Director Darren to turn up for the installation.
And this is where our servers are right now, fully installed and running like clockwork. That's not the end of the story, though – there's a lot more to our Miami journey yet to come. But all that will have to wait for another day. Stay tuned for our next post, all about the design, build and installation of our Private Cloud at MI6.
Pioneering Private Cloud for international business
We're deeserve, experts in Private Cloud solutions. Let us build your international digital infrastructure, so you can do business in the USA and beyond.

Call us on 01509 80 85 86 or send your message to hello@deeserve.co.uk to get started.

<! -- MORE SERVICES TO HELP -->
More services to help
We offer a comprehensive range of IT services to suit all businesses - from "helpdesk"-style IT support to data centre hosting services.